Hip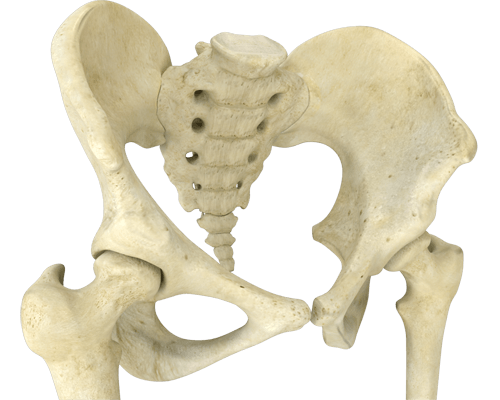 The hip joint is the largest weight-bearing joint in the human body. It is also referred to as a ball and socket joint and is surrounded by muscles, ligaments, and tendons. The hip joint is made up of the following:
Bones and Joints
The hip joint is the junction where the hip joins the leg to the trunk of the body. It is comprised of two bones: the thigh bone or femur and the pelvis which is made up of three bones called ilium, ischium, and pubis. The ball of the hip joint is made by the femoral head while the socket is formed by the acetabulum.
Ligaments
The ligaments adjoining the hip joint include:
Iliofemoral ligament
Pubofemoral ligament
Ischiofemoral ligament
Ligamentum teres
Acetabular labrum
Muscles and Tendons
A long tendon called the iliotibial band runs along the femur from the hip to the knee and serves as an attachment site for several hip muscles including the following:
Gluteals
Adductors
Iliopsoas
Rectus femoris
Hamstring muscles
Nerves and Arteries
The main nerves in the hip region include the femoral nerve in the front of the femur and the sciatic nerve at the back. The hip is also supplied by a smaller nerve known as the obturator nerve.
The femoral artery, one of the largest arteries in the body, arises deep in the pelvis and can be felt in front of the upper thigh.
Conditions
Hip Injuries and Tears